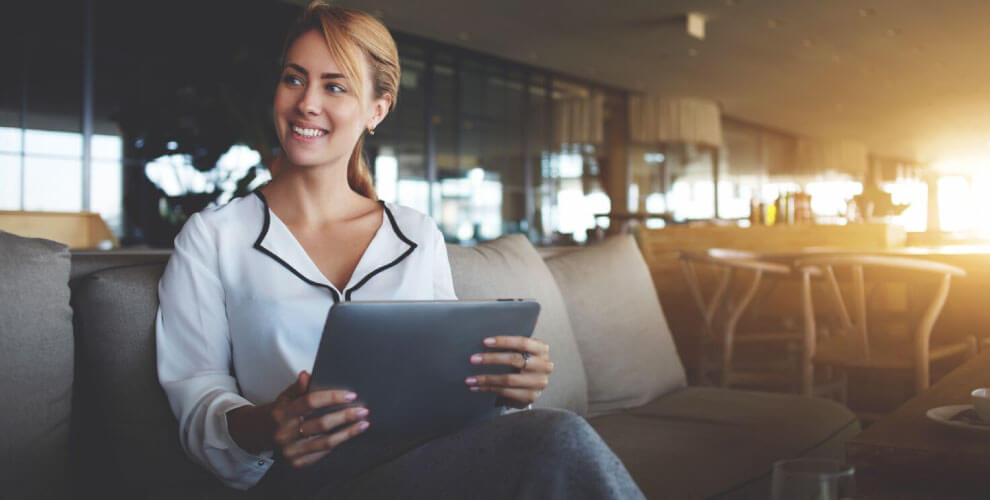 The Best Digital Marketing for Restaurants in 2022
Welcome to our FREE guide!

Sure, your restaurant's reputation may be based on the quality of your food, the professionalism of your staff, and the ambiance of your establishment…
…but you will never have the opportunity to build that reputation unless you attract customers to dine at your restaurant, right?
That's where digital marketing comes into play. It will help you put your best fork forward 😉 so you have the opportunity to "wow" your guests with unmatched service and delicious cuisine.
Within the following tabs, you will find quick tips to help you successfully promote your restaurant, even in the most competitive markets:
Why does your restaurant need a social media strategy? Because your target customers are spending their time scrolling through platforms like Facebook, Instagram, and TikTok.
If you show up with a consistent and professional social media presence, you will be top of mind when your potential customers are thinking about what they want to eat for lunch or where they're going to dine for their next special occasion.
Here are a few best practices to follow when curating your social media presence:
Optimize your social media profiles.
Make it easy for people to view all your restaurant locations. 
On Instagram, you can list a few of them in your bio or feature all of them in a story highlight that is pinned to your profile.
Facebook allows you to list multiple locations for your restaurant. This is crucial if you want Facebook to direct potential customers to the location closest to them.
Add an action button to make it easy for profile visitors to make a reservation.
You can add action buttons on Facebook and Instagram profiles. We recommend using either the "Reserve" or "Book now" buttons for your restaurant.
Start a conversation with your social media content.
Ask a question at the end of each caption to encourage your followers to comment.
Also, make sure you reply to the comments you receive so you can continue the conversation!
Create interactive posts, such as a "This or That" game with your menu items.
Remember, most people use social media for entertainment purposes—so make your content fun!
Use Instagram story stickers to boost engagement.
Here are a few examples:
Use the

Poll

sticker to ask your followers a question. (Ex. Which entree will you order?)

Use the

Quiz

sticker to test your followers' knowledge. (Ex. What is the main ingredient we use to make our Miami Roll?)

Use the

Question

sticker to host a Q&A session.

Use the

Location

sticker to share your restaurant's address.

Use the

Countdown

sticker to promote a special event. (Ex. Happy hour)
Feature your chef.
When you hone in on your chef's background and experience, you will humanize your restaurant and attract guests who connect with the chef's personal story.
Create an "Instagram-worthy" experience within your restaurant.
A neon sign or Instagrammable spot within your restaurant is worth the investment. You will make your money back when your guests start snapping photos and sharing them online.
Looks do matter in the culinary world—-not only for the presentation of your food, but also the atmosphere of your restaurant.
So, turn yours into a photo-op city, and you'll get tons of free, organic promotion from your guests daily.
Repost user-generated content and engage with your online community.
Your guests will be delighted if you repost their content or share it on your story with a mention. They will feel acknowledged and valued, which will strengthen their loyalty to your restaurant and make them more likely to return.
Facebook Advertising for Restaurants
We know it can feel daunting to spend money on paid ads if you've never done it before. But don't worry—we have you covered with Facebook advertising strategies that are optimized for restaurants.
Make your ad budget work for you with these tips:
Plan your digital ads budget and strategy for the entire year.
We recommend spending more of your budget around dates that are important for your restaurant. 
For example, if you serve Mexican food and have a full bar, Cinco de Mayo presents opportunities for your establishment that restaurants with Asian cuisine might not be able to capitalize on as much.
We also suggest pre-planning your specials and allocating your ads budget accordingly.
Run location-based Facebook ads.
Facebook users who live close to your restaurant are high-value prospects because they do not have to travel far to enjoy your cuisine. 
By running location-based ads that target people within a 2-mile radius of your restaurant, you can show your ads to people who are the most likely to come and visit.
Create custom audiences based on your email list and website visitors.
Your website visitors and existing email subscribers are also high-value prospects because they have already demonstrated an interest in your restaurant.
If you want to create an audience based on website visitors, you will need to install the Facebook Pixel on your website and configure relevant events to track the data that will be important for your future ad campaigns. 
We recommend installing the Facebook Pixel as soon as possible. You can begin collecting data on website visitors even before you're ready to start running digital ads.
To build an audience from your email list, export it as a .CSV from your CRM or email marketing platform. Then, ensure the list is formatted to match Facebook's guidelines and upload it to your Ads Manager.
Expand your reach with lookalike audiences.
Lookalike audiences target people outside of your current audience who are similar to an existing custom audience that you choose as the source.
Facebook's algorithm takes the data from your chosen audience and considers demographics, interests, and behaviors to find people who are similar (and likely to be interested in your restaurant).
The source audience should contain between 1,000 and 5,000 people.
Include notable press mentions in your ad campaigns.
Prominent local, national, or culinary-focused media outlets that have featured your restaurant will provide social proof that can give more credibility to the claims you make in your digital ad campaigns.
We recommend mentioning which outlets your restaurant has been featured in, showing the logos of the outlets, and also including quotes that made positive statements about your establishment.
Testimonials from renowned journalists or food critics will go a long way!
Google Ads for Restaurants
Google Ads will help you reach restaurant-goers in the area who are about to make a dining decision. You can create campaigns to increase new leads or improve retention among your current customer base.
Before you launch your campaigns, read our tips to optimize your campaigns and increase your ROI:
Focus on long-tail keywords.
Short-tail keywords are usually more general, and therefore they have higher competition and they cost more.
Long-tail keywords include more details, and therefore they help you target people who are looking for exactly what you offer.
For example:
Sushi

- short-tail keyword

Authentic sushi and ramen restaurant

- long-tail keyword
Target location-based keywords for search campaigns.
One of the best ways to run a geotargeted campaign is to choose keywords that are specific to your location. 
Especially if you have a small budget, you can narrow search intent by including your location in the keyword you're targeting.
For example:
Sushi near me

- wider search intent

Sushi in Coral Gables

- narrower search intent
In search-based campaigns, you want to focus on keywords that your target customers will likely search for. 
By choosing long-tail keywords that are relevant to your establishment, you will lower the cost of your campaign and reach the people who will be the most likely to visit your restaurant.
Reference specific locations or landmarks in your ad copy.
Instead of writing, "The Best Sushi in Miami," it's better to say, "The Best Sushi in Miami—Come See Us at Brickell City Centre!"
A/B test your campaigns.
A/B testing, or split testing, allows you to compare different campaign settings to ensure you are optimizing performance and making the most of your ad spend.
You can A/B test your:
Bidding strategy

Ad copy

Landing page

Keywords

Ad schedule
By using results to guide your strategy, you will learn what works best for your restaurant's Google Ad campaigns.
Test the user experience of your online ordering portal.
Google Ads can't work their magic if your website or online ordering system has a poor user experience. Run usability tests on all your website's features to ensure your customers can order food, make reservations, or take other desired actions with ease.
Optimize your ad delivery schedule.
You can customize your ad delivery schedule to only run ads during certain times. 
For example, you may not want to run ads when your restaurant is closed unless you want customers to place orders in advance.
If your restaurant is closed on certain days of the week, we recommend turning off your ads on those days so you don't disappoint customers when they show up and your restaurant is closed.
Email Marketing for Restaurants
Why is email marketing important for restaurants?
Well, because social media algorithms are in control of how many people see your organic posts. Your email list will give you a direct line of communication with your current and prospective customers.
Remember, you don't own your social media follower list. If Instagram disappeared tomorrow, you would lose access to your entire audience. You wouldn't be able to market to them in the same way.
On the other hand, your contact list is simply an archive of names, email addresses, and other personal information. It's data that you own.
Here are a few best practices to follow for growing and utilizing your email list to attract guests to your restaurant:
Collect multiple data points on new subscribers.
First name, last name, email address (of course), phone number, and mailing address are all helpful pieces of information to ask for.
By collecting more data, you'll widen your opportunities for marketing in the future. For example, you can't launch a direct mail campaign unless you have your guests' mailing addresses on file.
However, there is a catch—asking for more information requires you to offer a bigger incentive to sweeten the deal.
Don't overthink it. A free appetizer or 15% off coupon will be enough for some people to tell you their full name, mailing address, and life story… just kidding about the last part.
Include the recipient's first name in the subject line of each email.
Want to know why this works so well?
Imagine yelling the words, "Free appetizer!" down a crowded hallway. Some people might turn around to look at you, but others will simply go about their business.
But what if you yell, "Eduardo, claim your free appetizer!"
Eduardo is definitely going to turn around to see who you are and why you're offering him a complimentary order of mozzarella sticks.
An email inbox is exactly the same as a crowded hallway. You have to get the attention of your subscribers if you want them to open your emails.
Offer a lead magnet to grow your email list.
A lead magnet is something you offer for free in exchange for contact information.
Here are a few ideas for lead magnets that could work well for your restaurant:
$10 off the customer's next bill

15% off the customer's next bill

A free appetizer

A free dessert

A free drink

Membership to your loyalty program

Membership to your birthday club
Customers are often willing to hand over their contact details in exchange for something of value. 
To them, giving away information is free, but the reality is that collecting data on your customers will give you an abundance of opportunities to market to them in the future.
Segment your audience and offer personalized discounts to the contacts on your email list.
Audience segmentation means splitting your contact list into categories based on certain criteria.
Let's say you have a restaurant that offers both a sushi bar and hibachi. 
You could segment your customer list by interests so you would know who likes sushi and who is more interested in your hibachi.
Then, you could capitalize on your promotions by creating unique special offers for each segment. 
By offering personalized discounts, you can create a more intimate relationship with your list and delight your customers without giving every single coupon to your entire database of contacts.
Create promotions to attract deal seekers.
Especially if your primary objective is to attract new guests to your restaurant, we recommend creating promotions for people who choose where to eat based on the specials each restaurant offers.
Here are a few examples of promotions you can offer:
Lunch specials

with smaller portions and lower prices

Ladies' night

with one or more free drinks for women

Happy hour

with special pricing on drinks and appetizers

Category-specific discounts

(Taco Tuesday, Wing Wednesday, etc.)
You can get as creative as you want with your specials. The goal is to make your offers memorable and attractive for prospective customers.
Influencer Marketing for Restaurants
When organized and executed properly, an influencer marketing campaign can yield incredible results for your restaurant.
Choosing the right influencers is not as simple as it may seem, however. It requires careful consideration of each candidate's audience insights, engagement, and relevance in the local community.
Here are a few tips to get you started with an influencer campaign for your restaurant:
Host a media dine event.
Especially for new or up-and-coming restaurants, media dine events can be a great way to skyrocket exposure on social media and in local media outlets.
To host a media dine, you would invite food influencers, bloggers, critics, and journalists to enjoy your cuisine free of charge and create content about your restaurant.
The key to a successful media dine is to invite people who have influence not only in your city but also in your local community. 
Also, make sure your staff is on their A-game so you can impress your guests on the day of the event!
Ask selected influencers to create both photo and short-form video content.
Although Instagram began as a photo-sharing app, it has grown into a multimedia platform that favors short-form video content.
So, don't just ask for a few photos in your influencer contract. Make sure your influencers also create some high-resolution video content for Instagram Reels, TikTok, and other short-form video platforms.
Ask for additional content rights in your contract.
When influencers create stellar content for your restaurant, you can repurpose it for your own social media, digital ads, or other marketing purposes.
The key is to ask for the content rights in your influencer contract! If you leave that clause out, the influencer technically has full rights to the content. 
Offer a curated experience to the influencers you select.
When influencers come to create content for your restaurant, you want their experience to be as Instagram-worthy as possible so guests can see how amazing your establishment is.
An example of a curated experience could be a five-course meal paired with your most aesthetically-pleasing drinks. Content opportunities galore!
Create a collaborative menu item with an influencer.
Once you establish positive relationships with local influencers, you can offer to create a collaborative menu item with them. 
For all collaborations, make sure you choose influencers who have real prominence in your community.
Leverage micro-influencers with local followings.
Is more better when it comes to follower count? Not always, especially when the followers aren't within your target demographic.
However, micro-influencers with between 5,000 and 50,000 followers can make a splash and raise awareness for your restaurant just as much as an influencer with 1 million followers.
Instead of focusing only on follower count, look at each influencer's niche, brand values, engagement, and audience insights to determine if they're a good fit for your campaign. 
Search engine optimization—or SEO for short—is a strategy that businesses use to improve their rankings on Google, Bing, and other search engines.
SEO may seem intimidating or confusing at first, but it does not have to be complicated. Here are a few simple tips you can implement today to improve your restaurant's SEO:
Create a Google My Business profile for your restaurant.
A Google My Business profile is a free listing that will allow your potential customers to easily see key information about your restaurant, like your address and hours of operation.
Here's how to create your Google My Business profile.
Add your restaurant to all relevant review sites.
These are the most important review sites to begin with:
Acquire press mentions and high-quality backlinks to your restaurant's website.
A fundamental strategy for off-page SEO is to acquire backlinks, or links to your site, from other high-authority sites that are relevant to your restaurant.
Examples of high-authority sites could include local media outlets, date night guides, food critic sites, or popular food blogs.
It's important that the backlinks you acquire are "dofollow" instead of "nofollow." Nofollow links do not pass authority onto a site, whereas dofollow links do.
Launch a blog—but not just any blog…
No, your restaurant's blog will not be a diary written by your employees.
If you decide to start a blog for your restaurant, we recommend treating it like a media outlet. Promoting your restaurant is OK, but the focus of your blog should be providing as much value as possible to your target customers.
You'll want to optimize your blog posts for local keywords and keywords that are relevant to your cuisine. However, your content does not have to focus exclusively on food.
For example, you could also create an article on "The 10 Best Date Night Spots in Coral Gables" and include your restaurant on the list.
Lead Generation for Restaurants
For your restaurant, lead generation involves implementing strategies to attract new visitors to your establishment.
It is a crucial component of your marketing strategy because the leads you acquire will support other tactics, such as digital ads and email marketing.
Here are a few lead generation tips for your restaurant:
Provide free WiFi as a lead magnet.
You might be surprised at the number of people who automatically check for available WiFi networks when they enter a new building.
You can capture a plethora of emails by simply asking for contact information in exchange for a free, high-speed WiFi connection.
Use your social media bio to promote a special offer.
Think of your Instagram bio as precious real estate. The truth is that it could be the determining factor in whether someone decides to follow you or even visit your restaurant.
If you use your Instagram bio to promote your lead magnet, such as a free appetizer on the first visit, you can increase email signups and restaurant guests.
Partner with food delivery services.
Food delivery platforms are all the rage! If you're not offering delivery, you could be missing out on a major target market: the homebodies.
Here are a few apps to consider listing your restaurant on:
Participate in a giveaway or sweepstakes with other local businesses.
Cross-marketing is a strategy you can use to collaborate with other businesses for the mutual benefit of all parties involved. 
The key is to work with businesses that offer products or services to people who are likely to be interested in your restaurant.
In your cross-marketing campaign, the participating businesses promote one another and thus tap into new audiences outside of their own.
Remember, choose your collaborations carefully. You want to work with businesses that share the same values as your restaurant.
Content Creation for Restaurants
Whether you're shooting on a phone or a DSLR, it takes skill and practice to get a food blogger-grade shot of your cuisine.
Here are a few quick tips to help you shoot photo and video content for your restaurant:
Create a shot list for each content shoot.
When you're planning your next content shoot, create a list of the photos and videos you want to capture. You'll want to ensure you have plenty of content to promote your specials, events, and popular food items.
Ensure you have quality lighting at all costs.
Good lighting is more important than having a professional camera. Natural light is the best, but studio lighting will do the trick if you're shooting indoors.
Shoot content in a variety of formats.
Horizontal shots are best for in-feed photos and videos. However, you'll want vertical shots for TikTok, Instagram Reels, and other short-form video platforms.
It's crucial to capture both photo and video content for maximum engagement on social media.
Minimize clutter in each shot to allow the food to stand out.
Nothing kills the vibe of a food photo like a cluttered, messy desktop. 
If you'd like, you can purchase photo backdrops and surfaces specifically for your content shoot to ensure your cuisine looks impeccable in your content.
Show both the cuisine and the atmosphere of your restaurant.
Many restaurant-goers choose where to eat based on the atmosphere, not just the food itself. In your next content shoot, make sure to capture what your restaurant looks like on the inside so potential guests can get a feel for its ambiance.
Website Development for Restaurants
When you create your restaurant's website, it's imperative to consider the intent of each user who visits your site.
Will visitors book reservations on your website? 

Will they order for pickup or delivery? 

Will they purchase tickets for special events?
By keeping user intent in mind, you can build your site in a way that makes it easy for visitors to take key actions that will lead to an increase in revenue for your restaurant.
Make all important information easily accessible from the primary navigation menu.
Above all, you should make the following information easy to find:
Menu

Weekly specials

Operating hours

Locations

Phone number

Online ordering portal

Reservations portal
Stick to a neutral color scheme for your website so the photos of your cuisine will stand out.
Many restaurant websites employ a minimalistic design that does not distract visitors from important images or information. A sleek neutral theme is always a safe choice.
Ensure your restaurant's website is optimized for desktop, mobile, and tablet devices.
You can't skip this step! Many potential guests will view your website on their phones, so it's crucial to ensure your site looks good on every device.
Allow customers to book reservations online.
Calling a restaurant is an extra step that many guests won't want to take. If you make it easy for your potential customers to reserve a table on your website, you will fill your reservations more quickly.
Set up an online ordering system (and make sure it actually works!)
Functionality should be your #1 priority for your online ordering portal. 
We recommend conducting extensive usability testing to experience the customer's journey firsthand. Test the portal on desktop, tablet, and mobile devices to catch any bugs that may affect the online ordering process.

Would you like help from our team of restaurant marketing experts? Request a FREE proposal!