Remember the day you never saw your most beloved "+" button on Instagram anymore? Yes, it's now replaced with the dedicated button with the intentions of taking you straight to Instagram Reels.
If you may not be familiar with the idea of Reels, it is Instagram's latest attempt to keep up with the trend into allowing its users to share 15 to 30-second video clips, including the ability to attach your favorite songs through its massive music library, in an entirely new user interface within the app itself.
On its global rollout in 2020, Facebook, the parent company of Instagram, seized the chance amid the huge governmental backlash that TikTok (the company which originally introduced the idea of short shareable clips) had been facing, and integrated it into its already enormous social bubble the world uses today. Suffice to say, right from the get-go, Reels worked like a charm and truly did enhance, if not revolutionized, the experience the social media app now used by over 1 billion people worldwide. It's quite an achievement.
Instagram has steadily seen an increasing number of people uploading content to Reels, while also giving others to entertain themselves with something fresh and different on the app. In today's blog, we'll be taking you on a guide to use Instagram Reels so you can get up to speed with it and potentially increase your own engagement! Read on to learn more about using Reels.
An Overview of Reels' Recording Interface
The Reels upload interface will greet you with a number of different buttons. While the wide array of options may be overwhelming in the beginning (especially if you're using it on a smaller screen like your phone), playing around with it will soon make it second nature.
Important buttons to understand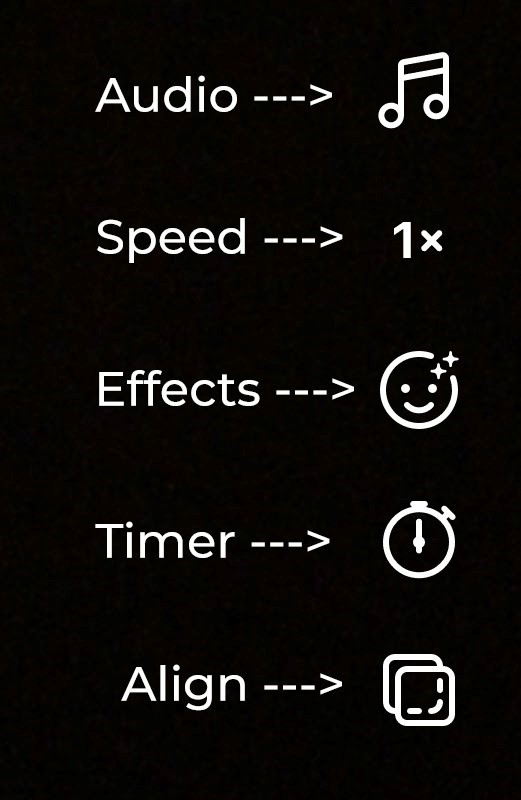 Audio: Lets you search for and select music and other audio to your Reel
Speed: Allows you to choose the speed of your recording
Effects: Pulls up a library of a variety of filters you can use for your video
Timer: Allows you to set the length of time you wish to record for the clip
Align: Helps you align objects when recording multiple clips (Ex. It shows you where you were previously standing in the previous clip so you can align yourself back in the same spot.)
Step 1: Get an idea of what everyone else is doing!
Your content will most definitely be different and should be in order to stand out from the crowd. Conducting 'research' by taking inspiration from other Reels or, for that matter, TikTok content, will help you think of ideas for your own videos to create. There's a new idea every day on Reels!
Step 2: Brainstorm creative ideas for your content
Creative ideas mean anything that is different to the others on reels. Of course, you also have the option to follow trends and upload your versions of it, but this is where Reels may differ quite a bit form TikTok, especially if you're migrating over from the latter. You may have been familiar with a lot of challenges going around with a tremendous number of people taking part in them, however, setting the bar high for yourself and finding newer ideas will help you stand out.
Determine what value your Reel will provide to your audience
Content can have different purposes and they can be informative, entertaining, narrative, or persuasive. If your Reel is going to provide information, let's say 'Tips' for example, try to stick to one or two tips per Reel (three is optional, however). You have a maximum of 30 seconds, so you'd want to keep it concise and to the point, giving each topic an equal importance.
*A Tip to Boost Engagement: Being a part of challenges on Reels may be beneficial, if done in right amounts. Mixing your original content with 10-20% of trending challenge videos along with the same sounds and trending hashtags may help your post rank higher in Instagram algorithm to be seen. However, do make note that this is not necessary, and is also uncertain. There are many original videos out there which rank higher solely on the content they show.
Figure out a way to present the information in a creative and engaging way
Whether you choose to do a screen recording or a video of you talking, you'll want to present your Reel in the most engaging ways to a user – and that is because it is very, very easy for a viewer to scroll through your content.
How can you make it engaging? Make use of:
different recording techniques
interesting camera angles
filters that enhance your video (but stay away from those which do not provide value)
music that fit your content (ex: pop for a fast-paced video, acoustic for a slow-paced video, comical for a funny video)
Season the Reel with your own flavor!
Adding your personal touch can become a deal breaker on how people perceive your content, and as mentioned above, this is where your creativity can shine. This can help viewers differentiate your (perhaps cooking) videos from other ones out there!
Step 3: Planning
This stage is more for you to make sense of your own content before actually going ahead and shooting it. This is the most important stage, even movie crews would not be able to push Oscar-winning titles without this stage. Planning can help you story tell on paper and identify any and all props you may need for your video.
Create a shot list for your Reel
This is simply a list of different clips you wish to add together to complete your reel (you could even do it in one shot!). Having this planned in advance will help you save time and spare you the effort of going back to the drawing board if you feel it's not working half-way through your recording.
*Tip: If you enjoy drawing, storyboarding can help you visualize what your scene is going to look like right away!
Scripting your audio and text
Having a script available to talk from (even pointers will do) will make the recording process easier and save ample amount of time, plus, you will not have to suffer from re-recording if you get blurry on what you wanted to say mid-recording.
Recording your content
Audio
If you plan to use a song or audio from Instagram's library, you'll want to choose this before you hit record. This way, the audio will play as you record your video.
Video
Before you hit record, make sure to set the speed of your video to your preference and choose your filter from the 'Effects' panel.
Timer
Setting the timer will keep your clip from recording more than you really planned for. If you're shooting a 5-second segment for example, using the timer will ensure each of your clip does not exceed the limit.
Prep your Reel for publication
Add your captions and hashtags. Instagram has done great work in keeping the interface quite similar to a normal feed post, omitting the need for learning a new interface. Posting your Reel to the feed will give you maximum exposure.
Post, post, post!
You did it! You're ready hit Share!
If you have any questions, feel free to contact us!