Social media giveaways are a great way to win people's attention. While it's a marketing trick to hype attention, it proves to be more than just that on the business side of things. Not only does it put you much more vividly in your audience's eyes (let's be honest, everyone likes free things), but it also makes sure to acquire more people to participate, in turn creating a beautiful scenario for your audience strategy. The ins and outs of giveaways work in a particular fashion – gamification.
The Idea of Gamification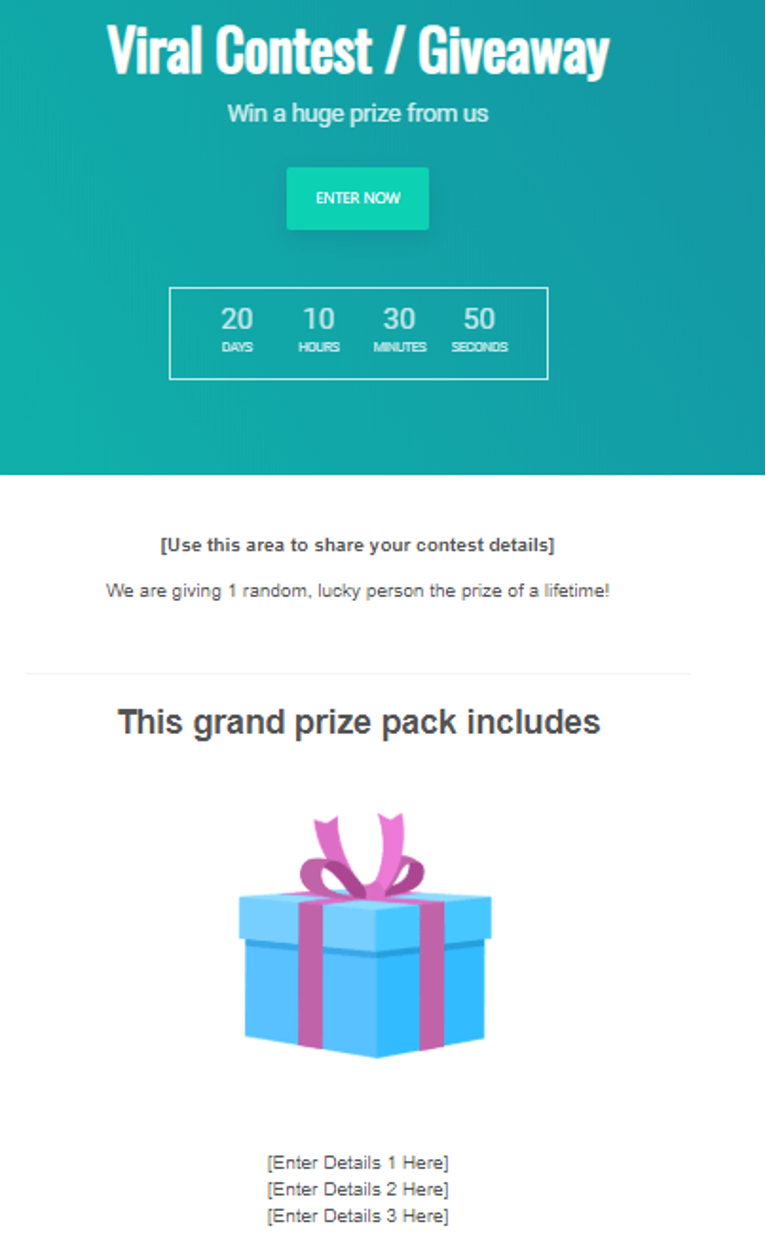 It's exactly where you may think it came from – gaming! The thrill of being part of a challenge to achieve something is what gets people excited. Businesses have learned and implemented many ways, across industries, to gamify aspects of their products/services as a marketing tool to keep their customers' level of excitement high.
Increase Audience Reach
Broadening target audiences using campaigns like giveaways and online lotteries gives your business a chance to reach a much wider audience and while doing so, collect information that strengthens your database, like emails and social media profiles. Even audiences you may have thought would never in a million years have an interest for your products or services get on board – such is the power giveaways: people want things, and they love a thrill.
What is Vyper?
Vyper is a great online tool if you are looking to launch such campaigns quickly, without a hassle. We at Heyday Marketing have made use of Vyper to run giveaway campaigns for our clients and strongly believe it would help more businesses to gain viral traction.
It specializes in running customized social media contests that can be advertised using its built-in advertising and tracking services. Moreover, it is a platform that makes it effortless to run viral campaigns, set up referral, reward, loyalty programs, create contests, and more.
Features to Utilize
Visual Designer – create engaging landing page and form designs
Integration with email marketing platforms – save and import subscribers' emails for email marketing
Track progress – of how your campaigns are doing with integrated Facebook Pixel Code and Google Analytics
Email Cheating Detection – automatically eliminate fake, repetitive email addresses
Mobile responsive designs – create a landing page once and see it adapt to mobile and tablet formats automatically
Loyalty programs – start from scratch to build a loyal customer base and giveaway rewards
Utilize pre-designed templates – quick campaigns to roll out? Skip the design phase and use templates to save time
Automated emails – to keep subscribers up to date
Points system – that encourages subscribers to share, follow, tag others and rank higher for winning entries
Automatic social media designs – share your promotions or announce winners with pre-generated template-based designs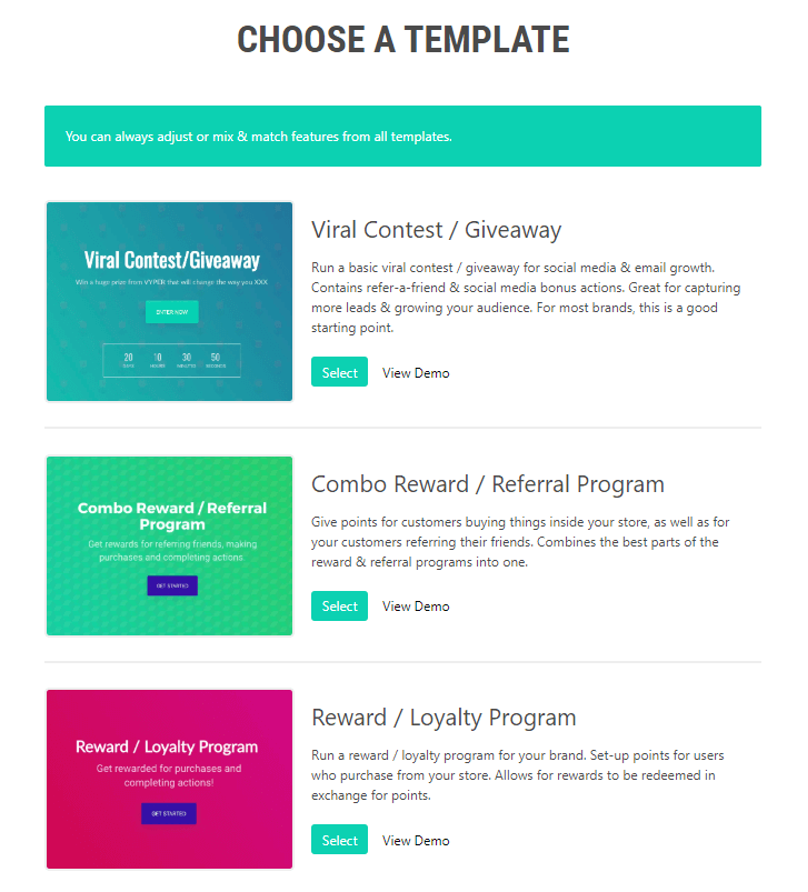 Types of Programs that can be run
Viral Contests / Giveaways
Contests and giveaways usually produce high engagement rates and increase brand leads. Generate leads and improve follower counts by inviting participants to like, follow, and comment. Encouraging subscribers to tag friends also wins them points.
Combo Reward / Referral Programs
This combines rewards and referral programs into one. This way, you can reward your customers for buying from your brand as well as referring it to their friends
Ambassador Programs
This kind of program aims to turn your existing customers, especially loyal ones now that you can track their loyalty, into brand ambassadors.
Loyalty Programs
Customers can collect points with each purchase which can then be redeemed for rewards, discounts, and coupons.
Pre-Launch / Waitlist Campaigns
Use Vyper to promote the pre-launch of your newest products or services to create buzz beforehand. This will allow customers to join a waitlist so you can keep them up to date. It's also a great way to generate app downloads during beta testing, for example.
Milestone Contests
Set milestones for customers based on points systems. Customers can be encouraged to keep buying from your brand in return for exclusive rewards once they reach their milestone.
Leaderboard Campaigns  
Similar to a rewards program, however, here, customers will be competing against each other on a leaderboard. Ones who climb up higher based on points or engagement with your brand can be rewarded with a richer gift. This creates a sense of competition which can be run multiple times without being obsolete.
Get Up to Speed with these Tutorials
Get a head start with these tutorials so you know exactly what to do when your giveaways and contests are ready to be deployed!
We wish you successful campaigns and a tremendous number of leads! Happy campaigning!